Your baby is the most precious thing in your universe. Your baby's baby teeth are just as important! Most babies get their very first tooth at around 6 months. Teach her how to keep her teeth healthy, strong and beautiful by regular visits to the dentist. Here are some helpful tips:
Baby teeth start erupting at age 6 months. By age 3, your baby has all their baby teeth!
Teething happens when teeth begin coming in — some babies will be fussy. Always check with your doctor if you have any questions.
When baby teeth start peaking through, it's time to brush!
Parents should brush their babies teeth until they are confident their child can do it on their own — no younger than three!
Use a small amount of fluoride toothpaste – rice size for under three, pea size for over three.
Floss in between any teeth that touch. Find a cute kiddie floss. Flossing is easy for them to do on their own.
Visit your dentist after the first tooth comes in but before the first birthday.
Avoid sugary drinks. Let your child develop a love for drinking water. Our bodies are over 50% water!
Don't introduce bacteria to your baby via other people's utensils or putting a pacifier in your mouth and then giving it to the baby.
Ask your dentist about sealants. Sealants protect your precious baby's teeth from decay. They are simple to put on their teeth and will save your baby's teeth from decay.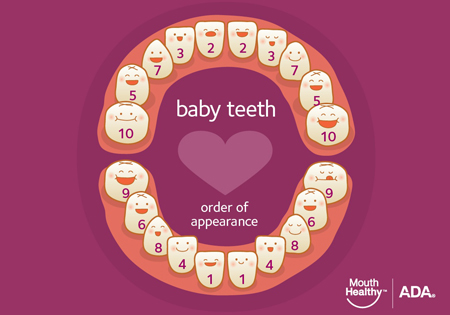 Keeping your babies teeth healthy and strong will allow your child to flourish. Dental decay and dental pain are the ugly effects of poor oral health. Partner with a dentist while your baby is young enough to develop lifelong great oral health habits. We are always here to help